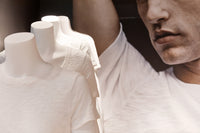 Why Peru
When Anthony decided to start his own line of ultra-soft t-shirts, he had no question that he wanted to manufacture in Peru. He already had relationships with a number of factories there, and knew that he could trust them with his vision to develop his own proprietary fabrics. After his first trip to consult with ATM's Peruvian team, it took nine painstaking months to perfect the brand's three original fabrics, all made from the world's most luxurious pima cotton. ATM's original slub, modal rib and modal jersey resulted from that initial collaboration, representing the perfect partnership between factory and designer. 
ATM's core collection is all manufactured in Peru, and we couldn't be prouder of our team there. Not only are the factories clean and efficient, but they're also designed to honor the very special pima cotton that grows so well along the equator. The crop thrives in Peru's rich soil under the hot sun, and its fibers become longer and stronger than they do almost anywhere else on the planet. Thanks to Peru's hard, mineral-rich water, pima cotton is also especially soft. The farmers who handpick it treat the process like an art, handling the fibers so gently that they remain completely in-tact. The result is a product that's both silky and durable – the ideal combination for the ATM brand.
The exquisite quality of our t-shirts comes down the threads. Clothing made with Peruvian pima cotton looks shinier, feels softer, and keeps its shape longer. For ATM, our deceptively simple designs are intended to highlight the beauty of the fabrics, which wouldn't be possible without our partners in South America. By traveling down to Peru multiple times a year, Anthony and his design team are able to give ATM's customers beautiful essentials that are developed – quite literally – from the ground up.